Lower Walla Walla River Geomorphic Assessment and Action Plan
The Conservation District, CTUIR, and the Tri-State Steelheaders collaborated to prepare a strategy for the lower Walla Walla River that provides guidance for government and other organizations in improving channel and riparian condition.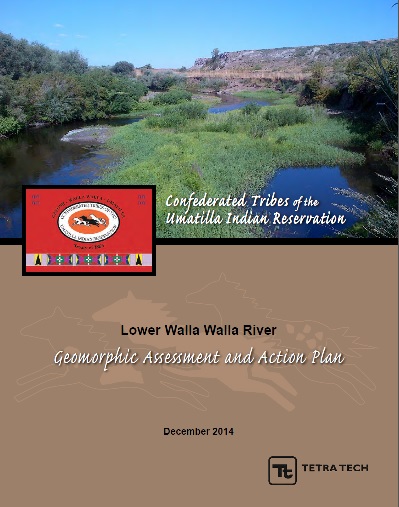 The goal of the GAAP is to understand the processes and limiting factors affecting the Lower Walla Walla River between river mile (RM) 0.0 and 27.4 (see Figure 1-1) in order to prioritize and implement projects that will make quantifiable progress in accordance with the Walla Walla Subbasin Plan (NWPCC 2005), Walla Walla Watershed Plan (WWWPU 2005), 2008 Fish Accords (Three Treaty Tribes-Action Agencies 2008), CTUIR Umatilla River Vision (Jones et al. 2008), Middle Columbia River Steelhead Distinct Population Segment ESA Recovery Plan (NMFS 2009), Snake River Salmon Recovery Plan for Southeast Washington (SRSRB 2011), Lower Walla Walla River Habitat Improvement Strategy (Lewis 2012), and Revised Draft Recovery Plan for the Coterminous United States Population of Bull Trout (USFWS 2014).
Project Lead: CTUIR
Project Collaborators: Bonneville Power Administration, Walla Walla County Conservation District, Tri-State Steelheaders
First Foods this project targets
| | |
| --- | --- |
| Water | |
| Salmon | |
| Deer | |
| Roots | |
| Berries | |
River Vision Touchstones this project targets
| | |
| --- | --- |
| Hydrology | |
| Geomorphology | |
| Connectivity | |
| Aquatic Biota | |
| Riparian Vegetation | |
Project Funders
| | |
| --- | --- |
| Bonneville Power Administration | $163,000 |